Why I Became a Quantum Reflex Analysis (QRA) Practioner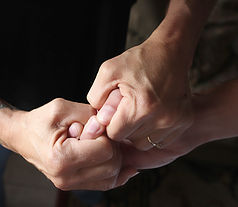 I was completely disabled by chronic Lyme Disease when I discovered Quantum Reflex Analysis (QRA). And as I followed the recommendations given, my body began to strengthen. The more I learned about nutrition and the power of food to heal, I became passionate about gaining the credentials I would need in order to educate others. By the time I was completely healed of the infection that had crippled me, I was a certified Health & Nutrition Coach and preparing for my studies with Dr Marshall. I am thrilled to be able to reveal the gift of "energy eyes" (quoting Dr. Marshall) to my clients, and help them navigate their best road to recovery and complete wellness.
Quantum Reflex Analysis by Dr. Bob Marshall
Dr. Marshall is a Certified Clinical Nutritionist, who when faced with a life-altering "death sentence" of his own, found his way to complete wellness, leading him to refine Dr. Omura's test. He dubbed this new, science-based, highly accurate form of energy testing, Quantum Reflex Analysis (QRA). I was trained by Dr Marshall as a Level III certified QRA practitioner. This tool helps me to customize protocol recommendations for my clients based on their specific areas of weakness, infection and toxicity.
What is QRA Energy Testing?
QRA is a kinesiological testing system using a bi-digital (thumb and ring finger) "O-ring" test initially developed by Dr. Yoshiaki Omura which focuses on key acupressure meridians that correspond to specific organs and systems as defined in ancient Chinese medicine.
What Happens During a QRA Testing Session
Your body is controlled by an intricate bioelectrical system, a part of which is the biofield.  QRA allows me to measure these frequencies, I will pinpoint which organs/systems are weak due to nutritional deficiencies, infection, or toxic load. Then recommendations will be made based on the results and findings during the testing. An initial, full body QRA assessment, including coaching session will take 90-120 minutes.
To learn more or schedule a consultation, please click here!